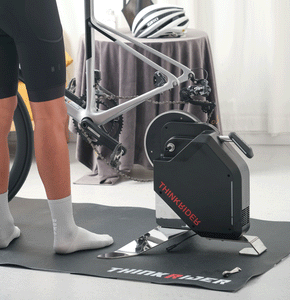 Getting set up to make the most out of your ThinkRider
It is not always easy to ride outside due to numerous reasons, time, weather, the road around you etc. Using a smart turbo trainer is convenient allowing you to more easily fit a good workout into your schedule.
Whilst cycling out on the roads is great; there is another whole world of cycling activities on line. Connecting with software you can access programs that have been designed by a variety of coaches, with sports science, experience and world class knowledge.
The huge development of online training allows your cycle workouts to be very specific, without the interruptions of the "real world". Free from traffic, junctions and terrain issues, your turbo training workout is unhindered. Except maybe your phone, kids or other real world issues, but you can control many of these issues, get the temperature right for you, maybe with a fan, towel and drink bottle at hand.
Now is your chance to work on getting FIT.
Think
Frequency of training
Intensity
Time
Grab your bike
Connect in onto your ThinkRider trainer
Put on your heart rate monitor
Download smart training software and link to your trainer and heart rate monitor.
Select a workout and start pedalling.
Well done you're on the road to a fitter and healthier you, just ride on.
Grab your bike
You can use most types of traditional bikes on your ThinkRider smart trainer. The X5 NEO is called a "Wheel off" smart trainer. So you remove your rear wheel and connect the drive chain directly to a cassette on the smart trainer.
Connect in onto your ThinkRider trainer
Remove your rear wheel. You will have one of two thicknesses of rear wheel axle.
130/135mm Quick release
12x142/12x148 Thru Axle (Optional, Inserts supplied)
For details on cassettes and axles there is a ThinkRider video that covers these on the X7 setup video, just follow this link https://youtu.be/hlHgt5M_mQA
TIP: If you have disc brakes on your bike, you can get a plastic break spacer that keeps the callipers apart. This stops the callipers sticking together if you squeeze the brakes on when there is no wheel.
In this way you get to ride your bike which you know fits you. The interface with the loading is direct, no tyre slip or wear as you get on a "Roller" style turbo trainer.
The "Seal fins" on the X5 NEO allows for some degree of flex, so your fancy bike frame takes less stress and you get a more natural ride feel.
The cassettes your bike are set up for may vary. The smart trainer is cassette is compatible with Shimano/SRAM/Campagnolo 9/10/11 Speed. You may have a different configuration on your bike, but don't panic the cassette on the smart trainer can be changed; just as you can change the cassette on your wheel.
TIP: Clean you bike chain regularly especially before you mount it to your trainer. This is good practice for your bike, not only does it stay cleaner but importantly it reduces wear on the chain caused by dirt.
TIP: Before you remove you wheel use your gears to the lower cog to reduce as much tension as possible on the chain.
The X5 NEO has a front wheel riser, which you can optionally place under the front wheel. This is a bonus; which helps to keep your bike level, so that you do not drop too much weight onto your hands and maintain your normal ride posture. The riser also helps to keep the front wheel facing forwards and not "Wobble".
Put on your heart rate monitor
To ensure you optimise your training you can connect your heart rate data to your workout. This can be with a chest strap or arm strap heart rate monitor.
Your software can adjust the load (Wattage) in *Ergometer mode and your SmartTrainer will increase the resistance/load to the program you are on. Having your heart rate data displayed will help you gauge your intensity at all times and is especially useful during tests or if you link to coaching software. (Such as TrainingPeaks).
*Ergometer = Ergo meaning Power & Meter meaning measure.
Download smart training software and link to your trainer and heart rate monitor.
Your ThinkRider supports bluetooth, ANT+ dual protocols allowing it to connect to devices that support these protocols, build into your Apple, Android and Windows phones and computers.
Compatible systems
Support OS8 and above, and support Bluetooth
Support Android4.3 and above, and support Bluetooth
MAC OS requires insertion of ANT+ receiver
Windows 7 or higher system, requires insertion of ANT+ receiver compatible protocol: ANT+
These devices when loaded with the relevant software can run cycle programs such as:
Zwift,                    https://www.zwift.com/
TrainerRoad,      https://www.trainerroad.com/
Rouvy,                  https://rouvy.com/en/
The Sufferfest,     https://thesufferfest.com/
BKOOL                  https://www.bkool.com/en/cycling-simulator
FULGAZ                https://fulgaz.com/
The data in these programs can link to other programs to analyse your overall calendar such as
Strava                   https://www.strava.com/
TrainingPeaks    https://www.trainingpeaks.com/
You can also use your cycle computer or sports watch to access data, such as your Garmin devices.
Select a workout and start pedalling.
Once you have signed up to one of the software programs above, the best place to start is with a FTP (Functional Threshold Power) test.
An FTP test will provide a starting point for your level across your training plan.
If you want coaching follow this link https://www.trainingpeaks.com/coach/elements-paul-moore#about 
---